About Ika Ink
Hello there! I'm Manda, the creative force behind Ika Ink. I invite you to embark on a journey through the cosmos with an enchanting collection of celestial-inspired art and items. Here, you'll uncover a captivating array of original artworks transformed into prints, stickers, stationery and other accessories – all designed to bring a bit of starlight into your everyday life.
Reaching for the stars
Are you drawn to the ethereal beauty of the cosmos? Look no further! As an artist with a penchant for the stars, I love to create original celestial artworks combined with animals, sea creatures and other nature themes. I aim to capture the essence of the universe, bringing its wonder into everyday life.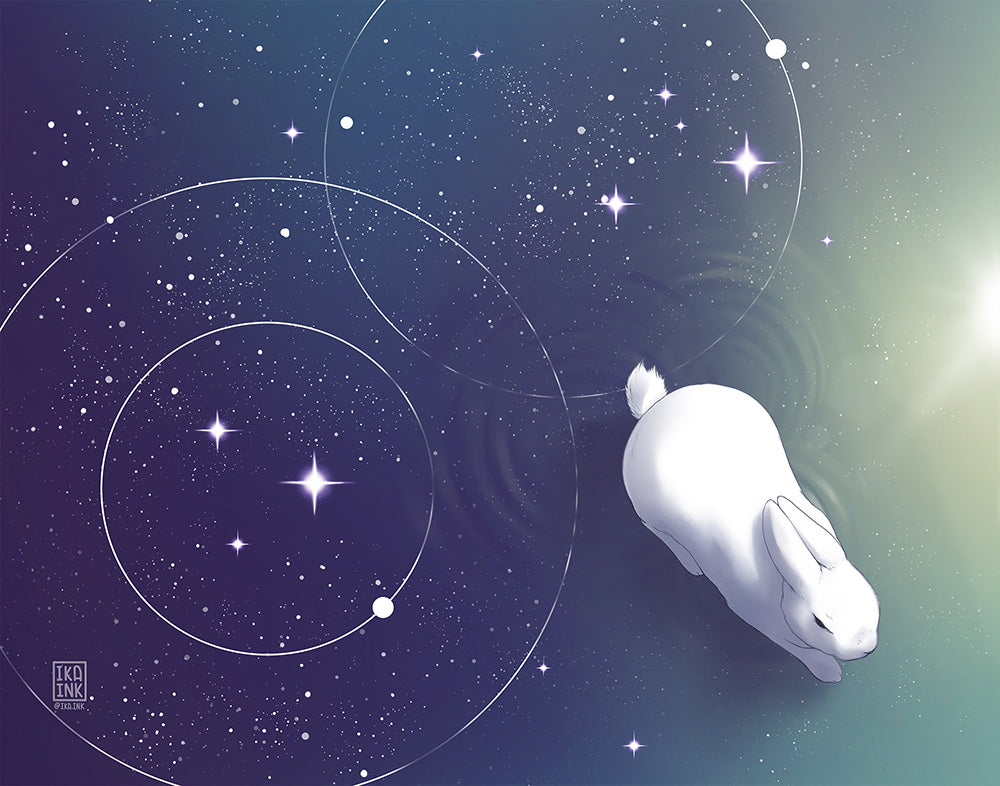 In Honor of BunnBun
I started this art journey in 2022 and BunnBun is the inspiration behind it all. She was a rescue rabbit who found her way into my life unexpectedly and captured my heart with a single nose boop. Our many years together were a tapestry of love and companionship. But after a while, her health began to decline and it was time to let her go.
In the aftermath, her absence left a huge void I struggled to fill. This is the reason I started to paint bunnies. It began as a way to process grief but grew into something more. Painting bunnies became not only an artistic outlet but also gave me the means to contribute to rabbit rescue initiatives to help other rabbits like Bunn. While she may be gone, her memory is forever etched in the artwork I create.
Handmade helping bunnies
If you found me, I assume you love bunnies! I've poured my affection for buns into an array of art and items. My own rescue rabbit, BunnBun, inspired many of my bunny works. And every bunny-themed creation you find here serves a greater purpose. My shop allows me to support organizations devoted to rescue and caring for abandoned rabbits in honor of BunnBun.
Support Beyond the Shop
Should you explore my shop and not find that perfect piece, consider making a difference in another way. Look up your local non-profit rabbit rescue organization and contribute to their cause. These groups are a sanctuary for bunnies that have been neglected and forgotten. Pet rabbits are the third most abandoned animals in shelters, they deserve our attention and care.
Join the Journey
For more behind-the-scenes moments, artistic revelations, and updates, please find me on Instagram or Facebook. Your support fuels my mission to infuse the world with the magic of bunnies and the allure of the cosmos!
Get in touch with me
Questions or comments? Feel free to reach out about anything!